Game Used Eric Moulds Buffalo Bills Helmet
Special $650.00
With Free Shipping in the cont. US
Game Used Eric Moulds Buffalo Bills Helmet


Price $650.00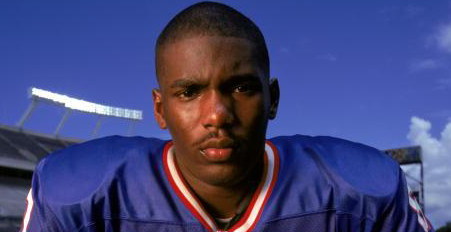 Eric Moulds. A twelve year veteran out of Mississippi State, and a star wide receiver for the Buffalo Bills for a decade. This helmet was worn by Moulds from his Rookie season in 1996 through his breakout season in 1998. All components of this helmet are original, worn by Moulds, and consistent with Buffalo Bills game helmets.

Riddell VSR4 model helmet, molded scarlett, in a size large. The helmet comes complete with a Schutt ROPO-SW mask as preferred by Moulds throughout his career. The mask is attached to the helmet with Schutt Clips on top, dated 1994 and 1995. The sides of the mask are attached with white Shockblocker clips, as used by the Bills. Phillips screws are used to hold the mask to the helmet. The chinstrap is a soft cup, Riddell high mount, as used by Moulds. Metal clips are used on the chinstrap.

The Bills decals remain intact with no lifting or seperation from the helmet. The center striping is one "triple" stripe as preferred by the Bills equipment staff since the early 90's. Decals on the rear of the helmet include: Bills rear bumper decal in correct color, font and thickness, Moulds #80, and the NFL shield. There is no warning decal on the rear of the helmet. The inside of the helmet has a #80 identifier written below the left ear hole. The interior is full of decals from the multiple seasons that the helmet was worn. All-American recertification stickers from 1996 and 1997 as well as two different warning labels, All American size label, inspection label, and original VSR4 label also line the interior of the helmet. One last interesting feature is the center stripe has been trimmed around each of the inflation valves of the padding. The valves have were then colored with what appears to be a blue marker to blend the color of the valves with the center stripe.

The helmet shows excellent wear on both the inside and outside of the helmet. Worn padding, worn jawpads, as well as some gouges on the top, chips and scrapes on the facemask and decals; this helmet displays very well. Originally sourced through Jim's Jerseys, we purchased the helmet from a local private collector. Photo matched.

To purchase, simply click the Buy Me button found below the helmet photo above. You will then be redirected to our Fully Secured Online Ordering form, where you may submit your information. The site is secured, so you can submit your payment information with confidence and trust.



"Moulds 1998...1,368 Yards, 9 TD, 20.4 Yds/Catch...all while wearing this helmet!"





Revised: May 9, 2006