Custom Chinstrap Sales and Installation
Real Stuff Sports is proud to offer a full line of chinstraps from all off the major manufacturers; Schutt, Riddell, and Adams. By installing a custom chinstrap, Real Stuff Sports can turn your normal, ordinary helmet into a rare, one of a kind collectible. By combining this service with the installation of custom facemasks, and accessories, Real Stuff Sports can customize any helmet into the exact game model worn by your favorite player.
Many times, helmet drilling and additional hardware is required to install different chinstraps. Installed prices include any helmet modifications and hardware required.
Low mount or high mount, hardcup or softcup, Real Stuff Sports offers all of the chinstrap styles used in the NFL as well as College Football.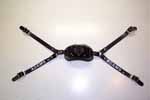 Click Above to Purchase or to see a full line of Chinstraps offered by Real Stuff Sports.