Game Used #32 1985 Cardinals Helmet
$399.99
With Free Shipping in the cont. US
Game Used #32 1985 Cardinals Helmet


Price $399.99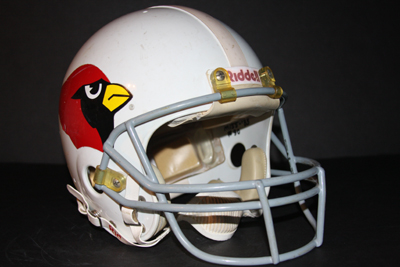 What a wonderful helmet this is. Getting to be very rare. Riddell model M155. Many called this a water-pac helmet. You won't find one this nice for this low of a price. Size 7 1/8 - 7 3/4. Comes complete with with a Schutt OPO mask. The mask is dated 1985 and comes with all four original clips and hardware. The chinstrap is a Riddell soft cup in the four point low mount configuration. The Riddell screened name on the chinstrap shows great use. Original Riddell leather jawpads are in excellent shape, in a rare size large.

The decals of the helmet remain intact with no lifting or seperation from the helmet. They are scuffed and scraped and show moderate to heavy use. The center ridge has a clear vinyl stripe which has discolored a bit in the last 25 years. The clear stripe was used with this style of helmet to protect the inflation valves of the padding. Decals on the rear of the helmet include: Authentic team warning oversized label in black on clear. There is no NFL Shield on this helmet as they were not put on the rear of the helmets until 1991. Other decals include the #32 in team decals as well as a Cardinals rear bumper decal in a very thin mil vinyl - consistent with helmets from this era. Inside the helmet is the Riddell factory decal, a factory size decal. In addition, there is team identifiers written in the helmet - year, model, and the #90, which could have been the original player to wear this helmet.

The inside of the helmet is in good condition as is the mask. This helmet displays very well. Sourced from a private party.

To purchase, simply click the Buy Me button found below the helmet photo above. You will then be redirected to our Fully Secured Online Ordering form, where you may submit your information. The site is secured, so you can submit your payment information with confidence and trust.



"Riddell Model M155. Try and find one this nice."