CLASSIC "RK" CUSTOM RAY NITSCHKE #66
Special $239.99 each
With Free Shipping in the cont. US
(Move Mouse Over Photos)
Ray Nitschke Custom "RK" Suspension Helmet with Mask AND PAINTED NUMBERS!
Price $239.99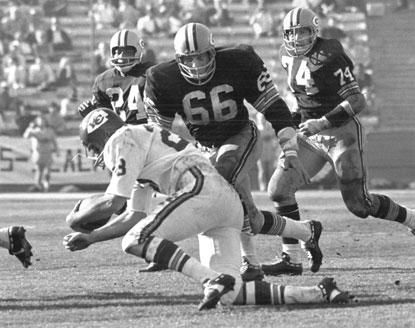 When the old man arrived, there was a young balding man in the middle. When the old man left, there was an older tougher, toothless man, still in the middle. His battered helmet, blood soaked jersey, and the white tape wrapped arms was an intimidating sight to opposing quarterbacks and runningbacks. Yes, Ray Nitschke outlasted Lombardi in Green Bay, and many others. He anchored the great Packer defense for 15 years. With Nitsche in the middle, the Packers won five World Championships in a seven year period in the 1960's, including back to back Superbowls. Off the field, people saw a tall balding, conservative man with horn-rimmed glasses and a business suit. However when he strapped on this Packer helmet, and removed his upper bridge, he became one of the meanest body-slamming linebackers the NFL has ever seen. Curiously he was selected to only one Pro Bowl during his 15 year career, yet when the NFL all time 75th anniversary team was chosen in 1994, there was Nitschke, again, ...in the middle.

Each helmet is brand new, factory fresh, and comes in a padded helmet bag. Each helmet is also in stock and ready to ship.

You will not find this deal anywhere else. The helmet without this Mask retails for $209.99 and the mask alone retails for $69.00. Our price of $249.99 for this awesome helmet, WITH THE PAINTED NUMBERS plus the free UPS Ground Shipping, makes this the best deal on an Authentic Helmet in the hobby. You can not go wrong. We know you will not be dissappointed. Thank you for choosing Real Stuff Sports.

To purchase, simply click the Buy Me button found below the helmet photo above. You will then be redirected to our Fully Secured Online Ordering form, where you may submit your information. The site is secured, so you can submit your payment information with confidence and trust.



"If they wore 'em, we got 'em."