2007 San Diego Chargers Authentic On-Field Riddell Helmet
Regular Price $209.99
Electronic Rebate $20.00
FINAL PRICE $189.99
With Free Shipping in the cont. US
2007 San Diego Chargers Authentic Riddell On-Field Helmet


Final Price after Electronic Rebate and Free Shipping $189.99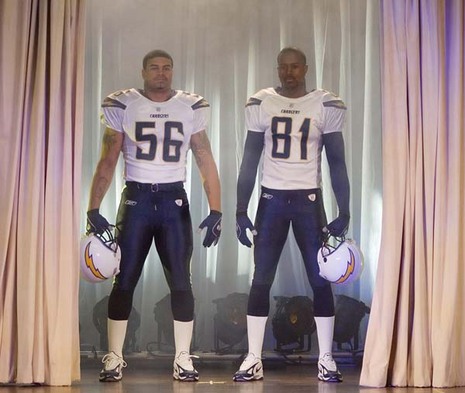 JUST IN TIME FOR THE SEASON!

The San Diego Chargers. This is the year. Superbowl bound. Rivers with another year under his belt will lead this team to the Superbowl. This is the new 2007 style Chargers helmet. Out with the old and in with the new. The old helmets are out, and so is Marty. New Metallic White Pro Gloss Paint, new three color bolts on the sides, and a new logo on the rear bumper. The only thing that stays the same is the navy blue facemasks.

With our exclusive electronic Real Stuff Rebate, along with the free UPS Ground shipping, the final price on these helmets is only $189.99. Try and find them for less. Shop around, then come back. We will still be here. We have been selling helmets and customized helmets longer than all of the rest. Real Stuff and Hooters. "Often imitated, never duplicated."

Each helmet is brand new, factory fresh, and comes in a plastic bag and factory box. Each helmet is also in stock and ready to ship.

To purchase, simply click the Buy Me button found below the helmet photo above. You will then be redirected to our Fully Secured Online Ordering form, where you may submit your information. The site is secured, so you can submit your payment information with confidence and trust.



"If they wear 'em, we got 'em."