Cleveland Browns, World Champions. Sounds a bit funny today, but it wasn't always a joke.

The Browns were founded in 1945 as one of the original teams of the All American Football Conference (AAFC) and won the championship of that league in each of the four (4) years that they were a member. The AAFC folded following the 1949 season and the Browns moved into the NFL along with the Colts and 49ers. In their first season in the NFL, they won the Championship! They played in the NFL championship game their first six consecutive years that they were in the league, winning three (3) times. Including their time in the AAFC, the Browns played in the Championship Game in eleven out of their first twelve years as an organization winning seven of them. Talk about a Dynasty! They were lead by Otto Graham at quarterback - arguably the greatest quarterback to play the game. During their Championship years of 1954 and 1955, the Browns and Otto Graham wore this exact same model of helmet.

The Riddell RT/RK4 helmet. In the early 1950's Riddell transitioned from their RT helmet to their popular Kra-Lite RK4 with two key improvements. The helmets were no longer the clear shell - painted from the inside. The switch to the tougher kra-lite material prompted the change to painting the exterior shell of the helmet - in the same manner as today. Additionally, with the introduction of the both the plastic tubular or flat clear facemask, Riddell changed the design of the jawpads. The RT helmets had the wrap around leather jawpads - securely riveted to the helmet. In order to mount these new facemasks, teams had to drill through these jawpads to secure the mask. The new RK4 moved these jawpads to the interior of the helmet with two securing rivets located at the top. This allowed the jawpad to be "lifted up" to mount the facemask under the jawpad. Revolutionary! Riddell also installed reinforcement grommets in order for teams to mount the Schutt cage style faceguards that were secured (tied) to the helmet with a shoestring, wire, or leather string. One last difference that helmet collectors will note about the RK4 over the RT helmet is the smell. Yes, RT helmets - for whatever reason, still stink with a noticeable odor 70 some years after their use! You know what I am talking about. Not this helmet. This one smells like roses!
This helmet, complete with 32 ventilation holes and 1954 datecode is as good as it gets as far as condition. The rivets shine, the leather like new, the paint is solid, the crown piece easily readable, and the early BT mask is perfect. Even the original leather chinstrap is in excellent condition which isn't always the case. Enjoy the photos.


Comments:
"That's an exceptional helmet." - Curtis W. Indiana
"They don't get any better looking than that!" - Robert H. California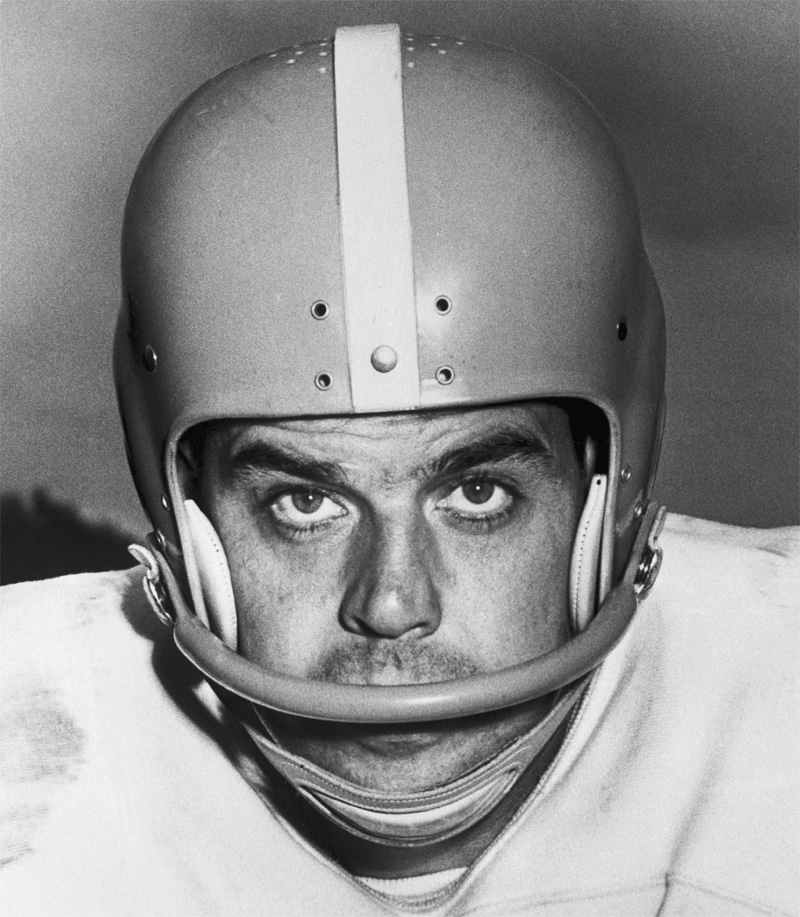 "Otto would have loved this helmet!"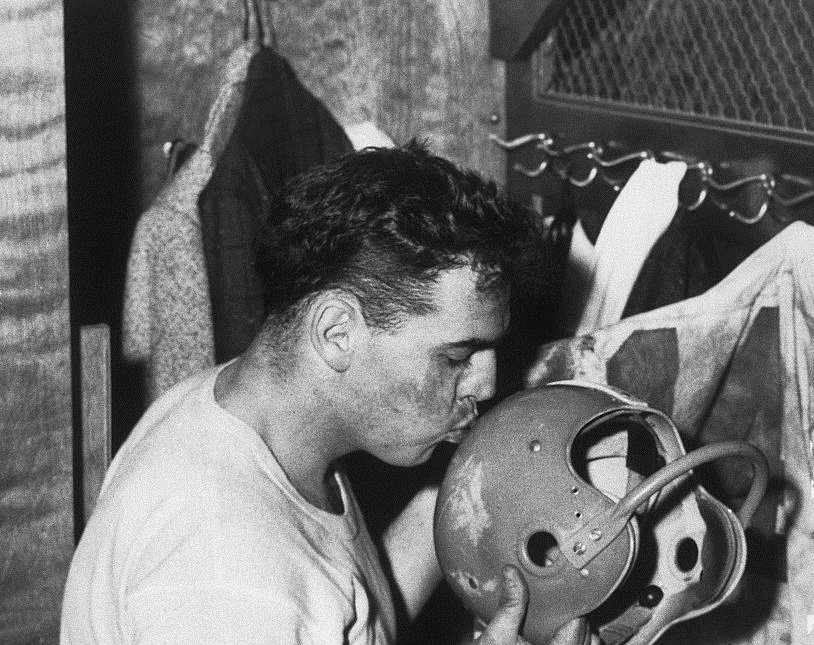 Revised: February 28, 2017



Webmaster: Real Stuff Webmaster