Game Used Travis Henry 2001 Rookie Buffalo Bills Helmet
$799.99
With Free Shipping in the cont. US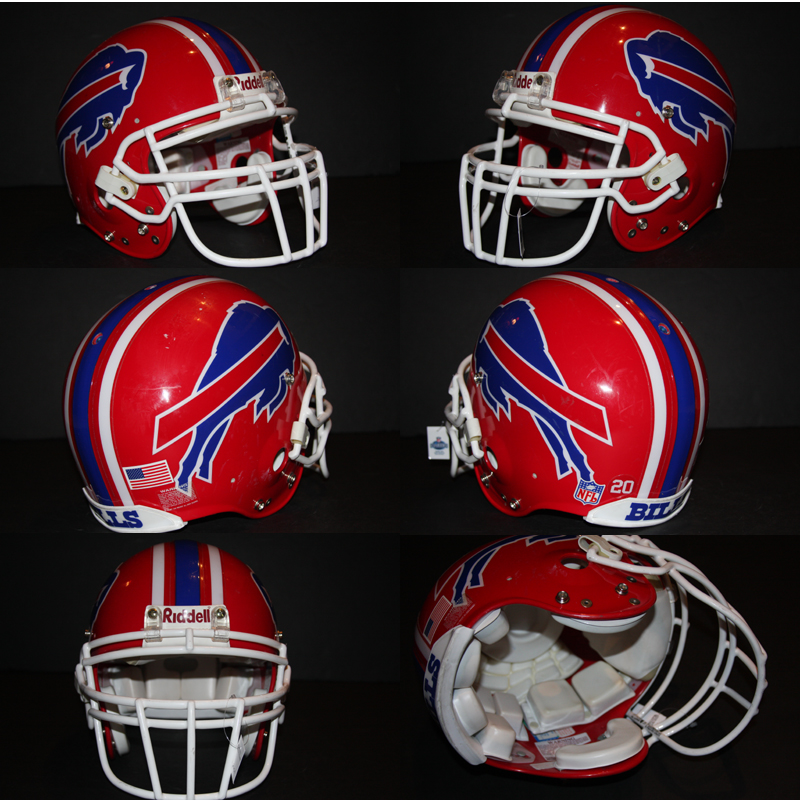 Game Used Travis Henry 2001 Buffalo Bills Helmet


Price $799.99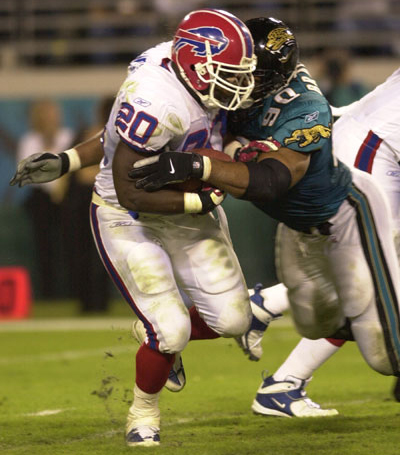 Travis Henry. One tough runningback. Sure he has eleven children among ten women and was arrested for drug trafficking, but let's focus on his playing days and more importantly this - his Rookie game used helmet. In high school Henry was a Parade All American and "Mr. Football Florida." As a senior, he rushed for over 4,000 yards and had 42 touchdowns in 14 games. Come on. Where have you even heard of production like that? He attended college at Tennessee, and holds the school records for rushing yards, rushing attempts, and 100-yard games. He was selected in the 2nd round of the 2001 draft by Buffalo. As a Bill, Henry became the fourth leading rusher in Bills history. He gained 908 yeards from scrimmage wearing this helmetalong with 4 TD's. Not back numbers for a rookie. He went to the Pro Bowl in 2002. In 2004, Henry lost his starting spot to Willis McGahee and demanded a trade. He was traded to the Titans where he played for two seasons and then signed with Denver. This is Henry's rookie helmet that he wore with the Bills. All components of this helmet are original, worn by Henry, and consistent with Bills game helmets.

Riddell rare AF2 model helmet, in molded scarlett, in size Extra Large. This is the last year that the Bills would wear a molded helmet. In 2002, they switched to a darker, painted helmet, along with different - more complex center striping. It should also be noted that this is the only year that Henry wore this "recycled" AF2 helmet, switching to a more common VSR4 for the remaining years of his career. The helmet comes complete with a Schutt ROPO-DW mask as preferred by Henry during his career - a very common running back style. The mask is attached to the helmet with Schutt Clips on the top and Shock-Blocker white clip on the sides. Phillips Schutt screws are used to secure the mask. The mask is dated 2001, and the top clips are both dated 1999. The helmet does not have a chinstrap.

The decals of the helmet remain intact with no lifting or seperation from the helmet. There is slight wear to the decals and striping. The center stripe is one multi-stripe as preferred by the Bills equipment staff since the late 80's or 1990. The stripe is trimmed flush with the rear helmet edge, and tucked under the rear bumper. Decals on the rear of the helmet include: Authentic team warning label, American Flag, NFL Shield, Bills rear bumper decal, as well as Henry's #20 circle identifier. Inside the helmet is two Riddell warning labels, as well as two different reconditioning stickers - one from 2001 and the other an unidentified year.Schutt Warranty information with 2006 dates indicating a brand new helmet last season. There is also an All American size sticker.

The inside of the helmet is in good condition with significant wear. This helmet displays very well. Sourced from Hunt Auctions - Superbowl Experience.

To purchase, simply click the Buy Me button found below the helmet photo above. You will then be redirected to our Fully Secured Online Ordering form, where you may submit your information. The site is secured, so you can submit your payment information with confidence and trust.


"Travis Henry. Great numbers. 6,000 yards, eleven kids, two NFL suspensions, and two arrests."

Revised: March 21, 2009

Webmaster: Real Stuff Webmaster