Game Used 1992 Green Bay Packers Helmet
$299.99
With Free Shipping in the cont. US
Game Used Green Bay Packers 1992 Helmet


Price $299.99

Riddell AF2 model helmet, molded Green Bay Gold, in a size large. The helmet comes complete with a Schutt NOPO mask. One of the few if not the only player to wear this style mask during this period was Chuck Cecil. The mask is attached to the helmet with Riddell clips on both the top and sides of the helmet. A combination of Schutt and Riddell phillips screws are used to secure the mask. The mask is dated 1987. The chinstrap is a Riddell soft cup in the low mount configuration. The chinstrap may not be original to this helmet. Metal buckles hold the chinstrap to the helmet in the low position. The top straps of the chinstrap are secured to the helmet with screws.

The decals of the helmet remain intact with very slight lifting. They are scuffed and show game use. The center stripes are three seperate stripes as preferred by the Packer equipment staff during this period. The side stripes have been replaced by the equipment staff and are shorter than the center stripe, and do not run to the bumper of the front or rear of the helmet. There is a screw through the center stripe in the rear to secure the rear padding on the inside of the helmet. Markings and decals on the rear of the helmet include: Factory warning label as worn during this period, thin mil NFL Shield, as well as the oversized Riddell trademark logo that were on many of the Packer helmets of this era. The rear bumper has PACKERS applied by the Packers Equipment Staff as does the front bumper of the helmet. Inside the helmet is a decal that says "1993 Unissued" meaning that this helmet was retired after the 1992 season.

To purchase, simply click the Buy Me button found below the helmet photo above. You will then be redirected to our Fully Secured Online Ordering form, where you may submit your information. The site is secured, so you can submit your payment information with confidence and trust.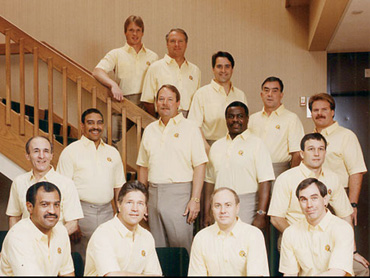 "Green Bay Packers - 1992. Holmgren, Favre, and the start of a dynasty."

Revised: June 26, 2008