Game Used Aric Morris 2001-2 Tennessee Titans Helmet
$349.99
With Free Shipping in the cont. US
Game Used Aaric Morris Tennessee Titans Helmet


Price $349.99

Aaric Morris. A mean, hard hitting defensive back and special teams star out of Michigan State. Nicknamed Bam-Bam for his hard hits. When he was released by the Titans, we got his helmet. And what a nice helmet it is. This is Morris' 2001-2 helmet that he wore with the Titans. All components of this helmet are original, worn by Morris, and consistent with Titan game helmets.

Riddell VSR4 model helmet, painted metallic white, in a size medium. The helmet comes complete with a Schutt ROPO-DW mask as preferred by Morris. The mask is attached to the helmet with Schutt Clips on the top and sides of the helmet. Double clips are mounted on the sides to give the mask extra support from the hard hits to the mask associated with a headhunter. Phillips Schutt screws are used to secure the mask. The mask is dated xxxx as are the top clips. The chinstrap is aa Adams hard, cup in the high mount configuration. The straps have had the Adams names removed per NFL uniform guidelines. Adams metal buckles hold the chinstrap to the helmet in the low position. The top straps of the chinstrap are secured to the helmet using screws with plastic washers.

The decals of the helmet remain intact with no lifting or seperation from the helmet. They are scuffed and show moderate use. Decals on the rear of the helmet include: Titans rear bumper decal, American Flag, NFL Shield, as well as the navy on clear warning label. Inside the helmet is the Riddell warranty and warning information along with #28 identifiers. There is also an All American size sticker.

The inside of the helmet is in good condition with moderate wear and stained padding. The facemask has scuffs and scrapes, showing a years worth of use. This helmet displays very well. Sourced originally from a private party along with a Championship Game Ball, playbooks, duffle bags, and other items from Morris' career. For information on those items, please email.

To purchase, simply click the Buy Me button found below the helmet photo above. You will then be redirected to our Fully Secured Online Ordering form, where you may submit your information. The site is secured, so you can submit your payment information with confidence and trust.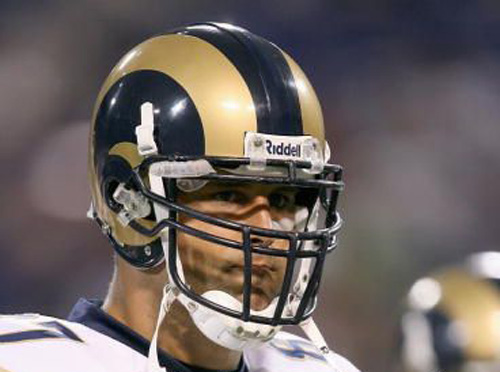 "Aaric Morris. One hard hitting S.O.B."

Revised: October 5, 2008