Game Used 2002 Alex Molden San Diego Chargers Helmet
Special$399.99
With Free Shipping in the cont. US
Game Used 2002 Alex Molden San Diego Chargers Helmet


Price $399.99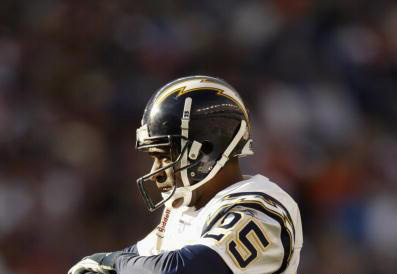 Alex Molden. An eight year NFL veteran, who played for three different teams. This is Molden's 2002 helmet that he wore with the Chargers. All components of this helmet are original, worn by Molden, and consistent with Chargers game helmets.

Riddell VSR4 model helmet, molded navy blue, in a size medium. Comes complete with Schutt ROPO-SW, as preferred by Molden. The mask is attached to the helmet with Riddell Clips on top, white Shockblocker clips on the sides, and slotted screws are used instead of the conventional phillips head. The chinstrap is a Riddell soft cup, high mount, with Riddell screened in red on the lower strap. The chinstrap is attached to the helmet with metal clips. Molden's #25 identifier is found on the left upper strap of the chinstrap, as placed by the Chargers equipment staff. A unique feature of this helmet in addition to the medium size, is the inflatible front sizer with the inflation valve found above the front nose bumper on both the helmet and in photos of Molden wearing it.

The Bolt decals of the helmet remain intact with no lifting or seperation from the helmet. Decals on the rear of the helmet include: Chargers rear bumper, Molden's #25, Authentic team warning label, American Flag, and NFL Shield. There is also a clear decal over the front inflation valve of the helmet, with grass trapped inside the decal. A Riddell navy blue decal is placed on the front nose bumper of the helmet. The inside of the helmet also has a #25 identifier as applied by the Charger's Equipment Staff, as well as a 2002 recertification sticker.

The helmet shows light wear on both the inside and outside of the helmet. Minor scratches, light gouges on the top, light facemask and decal wear; this helmet displays very well. Originally sourced through Jim's Jerseys. Photo matched.

To purchase, simply click the Buy Me button found below the helmet photo above. You will then be redirected to our Fully Secured Online Ordering form, where you may submit your information. The site is secured, so you can submit your payment information with confidence and trust.



"Molden wore it, we got it!"