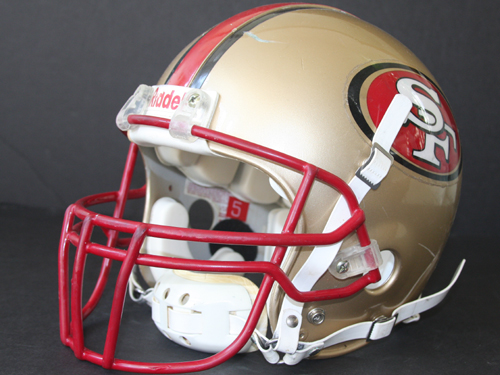 Had Jeff Garcia started his playing days in the NFL, he may have been one of the best to play the game. He had an accurate arm, was very mobile, played until the age of 40, and simply made plays. However, like many coming out of college, he chose to start his career by playing in the CFL. A four year all star in the CFL before moving to the NFL, Garcia went to four (4) Pro Bowls and played for six (6) NFL teams. He is one of eight NFL quarterbacks to throw 30 touchdowns for two consecutive years. Those other seven quarterbacks are Steve Bartkowski, Drew Brees, Peyton Manning, Brett Favre, Dan Fouts, Dan Marino, and YA Tittle. Look at that list. No Aikman, no Young, no Montana, no Elway, no Starr, no Unitas, no Namath, no Staubach, no Stabler, no Baugh, no Plummer, no Tarkenton, no Gabriel, no Jaworski, no Plunkett, no Meredith, no Griese, no Jurgenson, no Kilmer, no Eli, no Donovan, no Air-McNair, and not even Kurt Warner with the "greatest show on turf". Yes, Garcia is in very elite company.
This was Garcia's helmet that he wore with the 49ers. As he wore the Riddell VSR4 throughout his 49er playing days, this could very well have been Garcia's early helmet as well. All components of this helmet are original, worn by Garcia, and consistent with 49er game helmets.

Riddell VSR4 model helmet, painted light metallic gold, in a size Large. The helmet comes complete with a Schutt OPO-DW mask as preferred by Garcia during his career due to its lightweight design and maximum visibility. This style of mask has since been discontinued by Schutt. The mask is attached to the helmet with Schutt Clips on the top and sides. Phillips Schutt screws are used to secure the mask. The mask is dated 1999, and the clips securing the mask are dated 1998 and 1999. The chinstrap is an Adams Pro100 hard cup, high mount configuration, secured to the helmet with steel buckles. The Adams names have been removed from the chinstrap.

The decals of the helmet remain intact with no lifting or seperation from the helmet. They are lightly scuffed and scraped and show light consistent quarterback use. Decals on the rear of the helmet include: Authentic team mini warning label, American Flag, NFL Shield, as well as 49ers rear bumper decal. Inside the helmet is the Riddell factory warning label, 2001 reconditioning decal, as well as a large red #5 dymo identifier as used by the 49ers equipment manager. In addition, a velcro fastener is located on the right side of the helmet behind the earhole for the quarterback communication speakers.

The inside of the helmet is in good condition with consistent wear. The facemask is in well used condition for a quarterback helmet, but can be expected for a mask used for several seasons by a quarterback who was not afraid to tuck the ball and take on an opposing cornerback or linebacker. Yes, for a little dude, Garcia was fearless and ran well with the football. This helmet displays very well. It is a very rare helmet in that it was used for multiple full seasons and can be photo matched very easily to hundreds of photos of Garcia. Purchased from a private party with ties to the team as well as the Riddell reconditioning plant. The helmet was not reconditioned following the last season of use. .

To purchase, simply click the Buy Me button found below the helmet photo above. You will then be redirected to our Fully Secured Online Ordering form, where you may submit your information. The site is secured, so you can submit your payment information with confidence and trust.