Game Used Stephen Cooper San Diego Chargers Riddell Revolution Helmet
Special$499.99
With Free Shipping in the cont. US
Game Used Stephen Cooper Riddell Revolution San Diego Chargers Helmet


Price $499.99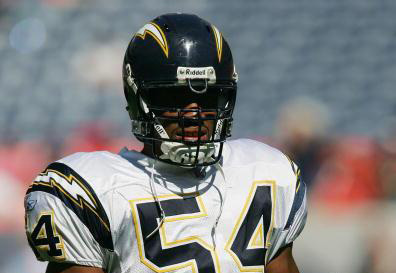 Stephen Cooper. A three year starter at Linebacker with the San Diego Chargers. Now entering his fourth season, it promises to be a bright future as Cooper leads the Charger Defense. Solid, fast, and a fierce hitter, the three year veteran out of Maine, recently resigned with the Chargers for the next four years. This is Cooper's 2004 Revolution helmet that he wore with the Chargers. All components of this helmet are original, worn by Cooper, and consistent with Chargers game helmets.

Riddell Revolution model helmet, molded navy blue, in a size large. Comes complete with Riddell G-3BDU mask, as preferred by the Chargers Equipment Staff. The mask is attached to the helmet with Riddell Revolution hardware, with correct black rubber grommets. The chinstrap is a soft cup, high mount, with metal clips used on the chinstrap. The wear on this chinstrap is consistent with the helmet and has the navy Riddell printing, even though Cooper prefers to wear a hard cup chinstrap during games. Either this was a practice chinstrap, or was replaced by the equipment staff prior to sourcing.

The Bolt decals of the helmet remain intact with no lifting or seperation from the helmet. Decals on the rear of the helmet include: Chargers rear bumper, Cooper's #54, Authentic team warning label, American Flag, and NFL Shield. A Riddell navy blue decal is placed on the front nose bumper of the helmet. The inside of the helmet has a recertification sticker applied.

The helmet shows excellent wear on both the inside and outside of the helmet. Heaving gouging on the mask makes this headgear very unique as they are normally replaced when this beat-up. This mask wear can also be seen in the photos of Cooper wearing the helmet. This helmet displays very well, and shows the violent game in which we love. Originally sourced through Jim's Jerseys, we obtained the helmet through a trade with one of our best customers. Photo matched.

To purchase, simply click the Buy Me button found below the helmet photo above. You will then be redirected to our Fully Secured Online Ordering form, where you may submit your information. The site is secured, so you can submit your payment information with confidence and trust.



"Cooper wore it, we got it!"