CLASSIC "RK" CUSTOM BUCK BUCHANAN
Special $249.99 each
With Free Shipping in the cont. US
(Move Mouse Over Photos)
Buck Buchanan Custom "RK" Suspension Helmet with Dungard Mask
Price $249.99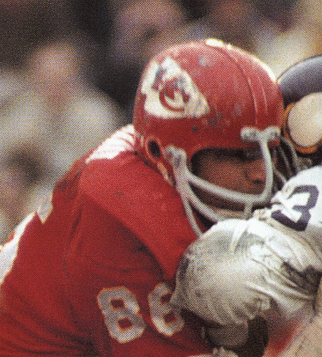 There simply was no one else like him. The size, the speed, and the strength. Buck Buchanan terrorized opponents for 13 seasons in the NFL. Not only was he a potent run stopper, but he was arguably the game's best pass rusher, all 6-7 270 pounds crashing right up the middle. Once through the line, it meant one of two things; a quarterback sack, or a pass batted to the ground due to his long arms. The eight time Pro Bowler and Co-Captain of the Chiefs anchored a defense that took the Chiefs to two Superbowls in four years. During his 13 seasons, Buchanan only missed one game, before retiring from football in 1975.

Each helmet is brand new, factory fresh, and comes in a padded helmet bag. Each helmet is also in stock and ready to ship.

You will not find this deal anywhere else. The helmet without this Dungard Mask retails for $209.99 and the Dungard Mask alone retails for $125.00. Our price of $249.99 for this awesome helmet, plus the free UPS Ground Shipping, makes this an the best deal on an Authentic Helmet in the hobby. You can not go wrong. We know you will not be dissappointed. Thank you for choosing Real Stuff Sports.

To purchase, simply click the Buy Me button found below the photo. You will then be redirected to our Fully Secured Online Ordering form, where you may submit your information. The site is secured, so you can submit your payment information with confidence and trust.